EUROPAN 15 – jury meeting
On September 14 and 15, 2019, the First meeting of Croatian jury sites within the framework of the international architectural and urban design competition Europan 15 took place.
The entries for the Luscic barracks in Karlovac were evaluated on September 14 at the Zorin dom theater on Karlovac, and the entries for the Ždrijac neighborhood in Nin a day later at the Ministry of Construction and Physical Planning.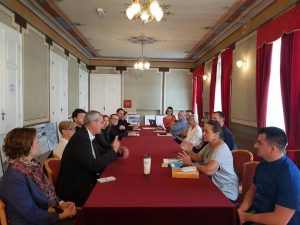 The Europan 15 competition has been launched as part of the international Europan platform, which has been conducting architectural design and urban planning competitions for 30 years, giving young architects the opportunity to become established on the European stage. The members of the jury are the architects Leo Modrčin, Olga Pejković, journalist and art historian Patricia Kiš and economist Šime Erlić, head of the EU Funds Management Department in Zadar.
The alternate members of the Jury are architects Vladimir Jakovac and Svebor Andrijević, and competition secretary is Maja Furlan Zimmermann.
The jury meets twice in September and November 2019, and between the two sessions the entries will be discussed at the City and Jury Forum, which will take place in October 2019 in Innsbruck.
The announcement of the competition results will be on Dcember 2, 2019. After the official results of the competition are announced, there will be an exibition and public presentation of the competition entries.