The Inter-Sessions Forum of the 15th and 16th sessions of Europan
The Inter-Sessions Forum of the 15th and 16th sessions of Europan was held online from 18 to 22 January. The forum was publicly available with free participation. It was an opportunity to get acquainted with all phases and stakeholders of the Europan 15th session through presentation of awarded projects in 47 European sites, and through discussions and lectures.
Croatia was represented by two award-winning works presented by their authors, Hana Dašić as a representative of the first-prize winning team at the Karlovac site, and Irena Bakić and Iva Jelinčić for the Nin site. Short video presentations of the awarded works were also shown.
In one of the panels dedicated to the implementations, Ms. Sanja Jerković, Head of the Office for Strategic Planning and Development of the City, participated as a representative of the client, the City of Zagreb. She presented the results, challenges, repercussions and future of the Zagreb on the Sava project from E 13 session. Zuhal Kol from the awarded team presented the project, and Carlos Zarco Sanc from the same team participated in the jury that selected the best E15 winning entry video.
In the part dedicated to the next session, E 16, Croatia did not have a representative.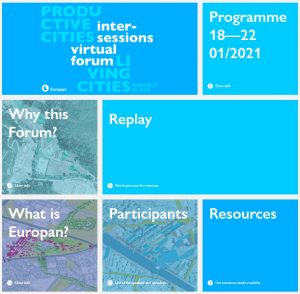 Panels, lectures, videos and video lectures and interviews can be viewed until 22 February at https://forum.europan-europe.eu/replay.