Europan 17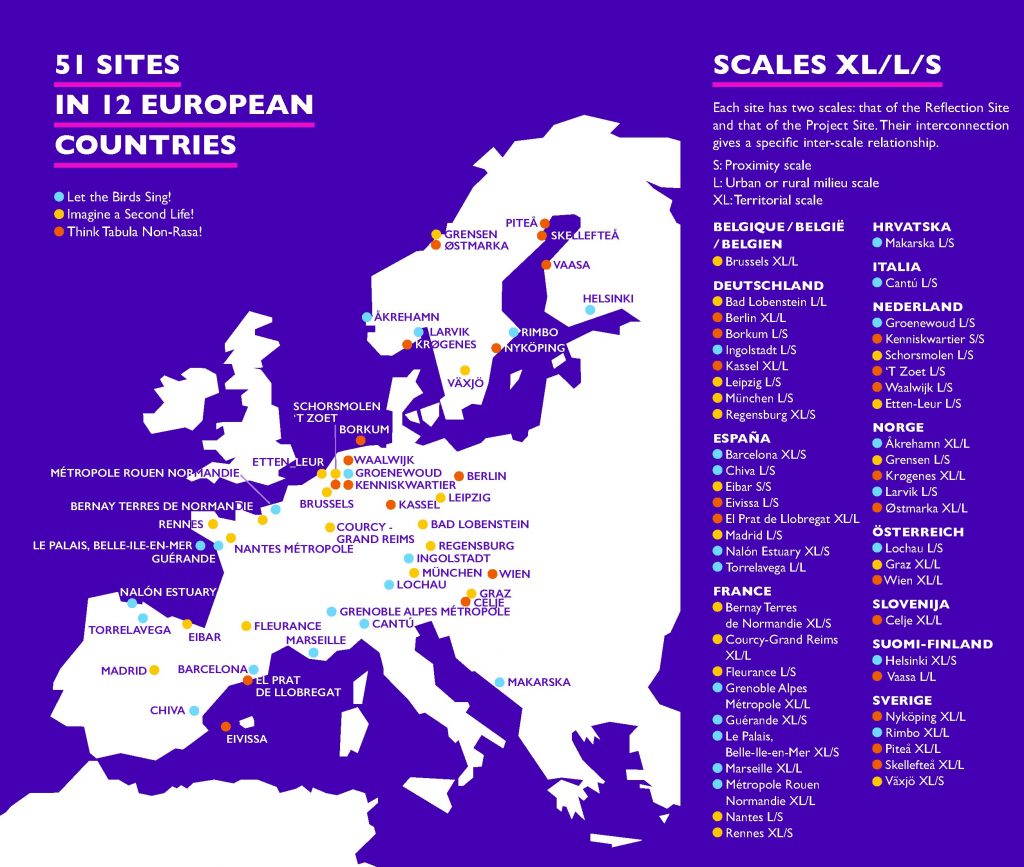 LIVING CITIES /2
REIMAGINING ARCHITECTURES BY CARING FOR INHABITED MILIEUS
The aim is to explore the regenerative capacities of living milieus amidst new ecologies that attempt to overcome the opposition between nature and culture and anthropocentrism during times marked by natural disasters and a climate emergency.
How can we care for inhabited milieus?
The increasingly alarming nature of the different IPCC reports, most recently that of March 2022, and the COVID-19 pandemic with its planet-wide impact, have made the vulnerabilities of the living world and the metamorphoses of habitability even more starkly apparent. The very possibility of living is now in doubt for all, given the excessive consumption of natural resources by certain human groups to the detriment of the needs of the global population, exceeding what planet earth can replace.
Climate emergency, overexploitation, pollution, inequality and iniquity – all these ills, upheavals and disorientations demand actions of "care" that address the coexistence and interrelationship of all the elements of the living world, and thus mandate a radical shift in paradigm. Sensitivity, responsibility, creativity are aspects of care and of interest in other beings.
This demands an awareness of the affiliations and interactions at work in the situations put forward for the competition. For Europan 17, the contexts demand a radical change towards a more immersive approach to the conception and production of space, an approach founded in care for living milieus. A new paradigm is at work, prompting us to wonder how to reconcile things and beings at a time when the habitability of Planet Earth is in question. Local and translocal strategies are be associated both with issues of metabolism (new ways of managing flows of natural elements, materials and human beings with the aim of developing circular economy) and issues of fairness and solidarity (inclusivity of actors in processes) which were already partially operative in certain contexts in E16.
Reimagining architectures that are embodied in "visions" or "narratives" of the evolution of sites between present and future
In response to these territorial challenges, it is more than necessary to create complex, global and dynamic spatial reconfigurations in damaged inhabited milieus in order to revitalise biological and human communities. The care-based approach will lead to a necessary interplay of innovative, dynamic and varied project processes:
– producing an active understanding of what is already in place (biological + socio-anthropological scales), a situational intelligence;
– on the basis of this immersion, repairing mistreated territories/spaces by subtraction and recreation;
– reinforcing, regenerating or creating qualities of hybridisation between nature and culture;
– linking the scale of strategic and dynamic reflection on territories (the large-scale structuring ecological challenges) with the scale of local spaces and their re-conception (everyday spaces and shared spaces);
– imagining/creating spaces today with a view to the connection between present and future and therefore their production and adaptability over time (sustainable development);
– tackling projects with a readiness for design and production processes that involve all actors with their diversity and their differing roles.
In order to achieve this complexity, the situations that will be chosen for the Europan 17 competition must be such that the projects submitted can activate in different contexts and at different scales:
– symbiotic links between the living world and the cultural world, vital relations between human and nonhuman beings;
– spatial synergies (actions conducted in concert between different elements, entities or stakeholders): these are types of natural and cultural re-liances at different scales between elements that have become fragmented as a result of the modernist development of milieus;
– natural and human temporalities (cycles and rhythms of the living world and the social world) in process-projects.
The 52 sites are inhabited milieus to regenerate
Mixing nature and culture, the Europan 17 sites are located in numerous environments:
– city centres and suburban areas,
– big cities and small towns,
– urban brownfield sites and rural spaces.
All of them, however, include the two dimensions of nature (natural elements) and culture (inhabited spaces).
All of them also combine two scales:
– the territorial and geographical scale of the "reflection site" ( delimited with a red line and which raises the big issues around ecology, mobilities and must be taken into account by the competitors and where they can propose ideas of evolution…)
– and the proximity scale of the "project site" (delimited with a yellow line and which may range from a single building and its immediate environment to larger fragments where the architectural project links in with the wider territorial scale).
MAKARSKA - PIJACA / PEŠKARIJA / GASTRO-CENTAR GRADA
Location: MAKARSKA
Population: 13834
Strategic site area: 23 ha
Project site area: 0,5 ha
Site proposed by: GRAD MAKARSKA
Owner(s) of the site: GRAD MAKARSKA

Europan 17 is launched simultaneously on 51 sites, following common rules and calendar.
Competition launching:                                                 Monday, March 27th 2023
Deadline for submitting questions:                               Friday, June 2nd 2023
Deadline for the online submission of entries:           Sunday, July 30th 2023
Results Announcement on the European website:     Monday, December 4th 2023
Jury members
Irena Matković, PhD, M.Arch., Zagreb
Dražen Pejković, M.Arch., Split
Rosa Rogina, architect and curator, London, UK
Doc. Rok Žnidaršič, univ. dipl. inž. arh., Ljubljana, Slovenia
Saša Špiranec, wine columnist, Zagreb
Ana Šverko, PhD, M.Arch, Split
Rujana Bergam Marković, M.Arch, Zagreb

Replacement Jury Members
Mirko Buvinić, M.Arch., Zagreb, Hrvatska
Petra Radić, M. Arch., Podgora

Competition Secretary
Svebor Andrijević, PhD, M.Arch, Zagreb

Winner
in the amount of 12.000,00 €
XJ968 - Earth, Wind and Water
Author(s): Elisabeth Terrisse de Botton, Spain and Matthieu Brasebin, France, architects
Associates(s):

Runner-up
in the amount of 6.000,00 €
PP134 - A Roof Without a House - A Study of Slowness
Author(s): Ria Tursan, Jana Horvat, Antea Divić, Sara Blekić, Hana Dašić, architects, Croatia
Associates(s):

Special mentions
CO558 - Bustling Locale (Mjesto šušura)
Author(s): Matija Babić, Samantha Licardo and Ana Doljanin, architects, Croatia
Associates(s): Mate Božanić, Lucija Sopina, Antonija Babić and Luka Berić, Croatia

IO383 - Fishing NETwork!
Author(s): Davide Bertin and Fabio Tossutti, architects, Italy
Associates(s):

CC231 - Rooms of Conviviality
Author(s): Izabela Słodka, architect, Poland, and Nicola Russo, Tommaso Mazzega, Olivia Leoni, Riccardo Roldi, Francesca Sordi and Andrea Paoletti, architecture students, Italy
Associates(s):